The Grand Exit
A grand exit is usually the last event on a wedding day and celebrates the couple's exit from the reception. Guests form two lines creating a pathway for the couple to exit through and cheer as the bride and groom leave the party, usually with sparklers or glow sticks, you can also use confetti, bubbles, or rose petals. It's super fun but more importantly, it allows me to create amazing wedding photos for you!
*If you would like to include sparklers in a grand exit confirm with your venue what they can allow them.
Pros:
A grand exit creates an opportunity for fantastic wedding photos.
Grand exits serve as a grand finale cementing the end of the night.
Cons:
Grand exits can be challenging to coordinate. (If you don't have a day of coordinator I am happy to help with this.)
Guest count typically dwindles towards the end of the night which could leave you with fewer guests than you had envisioned to see you off.
Here are some pro tips if you choose to have a sparkler exit:
1. Plan to go through the line at least twice. It will allow for me to get multiple shots of you moving through your tunnel of guests. If you're using sparklers many burn for 3 minutes giving you plenty of time.
2. Let your guests know what you have planned. After you have danced your first dance, fed your guests dinner, and cut the cake many guests start to trickle out. If they know that you have a big exit planned they are more likely to stick around.
Another option if you aren't quite ready to leave the party but still want to create a fun photo is to have your guests form a semi-circle around you and we photograph it just as we would if you were actually leaving the party.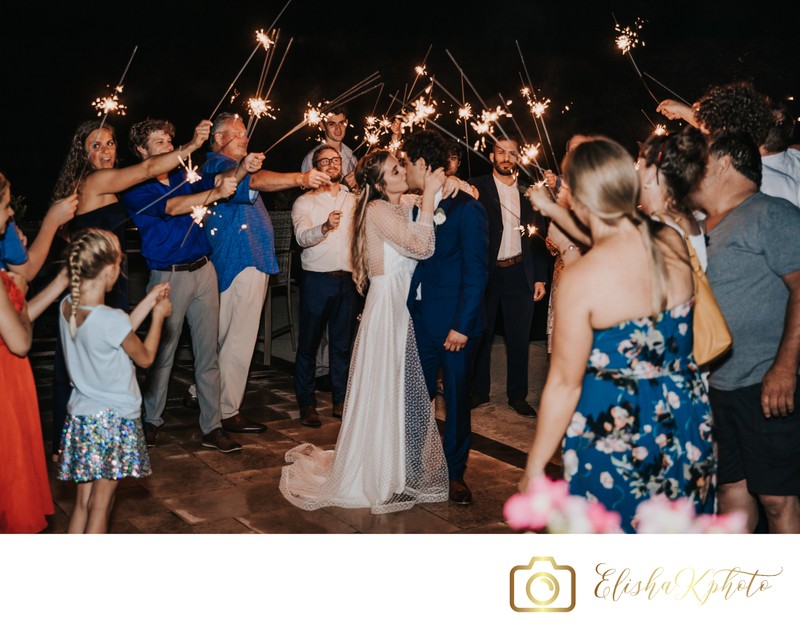 3. When it comes to sparkler exits the longer the sparkler or glow stick the better. There are 36" sparklers and glow sticks available on Amazon.
4. Create a moment, you can stop and kiss, dip the bride, twirl around, taking those sparkler exit photos up a notch.
5. Be aware of your surroundings if you are using sparklers, your wedding guests may have been served alcohol and then handed flaming sticks of fire.
Pro-tip: You can give your guests time to set up for your grand exit by having a private last dance, a time for just the two of you to share a final moment together on your wedding day.
*Many grand exits occur while it's dark outside. If you are planning a grand exit during this time period be sure that your wedding photographer is comfortable using lighting equipment to deliver you amazing photos. I am extremely comfortable using lighting equipment and because I have a dedicated second photographer we have grand exits down to s science so that it goes seamlessly and we can excitedly deliver photos our couples love!
Where did this tradition start?
Once upon a time, the grand exit included the throwing of rice symbolizing rain that was meant to give husband and wife good fortune and fertility. Wedding guests stopped throwing rice when it was believed that unsuspecting birds would eat it causing them harm. (That turned out to be a myth.) As a rebut of this belief it led guests to begin throwing birdseed and blowing bubbles and eventually evolved into the grand exits we see today with sparklers and glow sticks.